Safety extra low voltage – SELV
The safety isolating transformer will have the identification mark as shown below: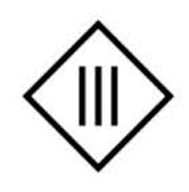 SELV is separated extra low voltages. However, SELV is described as safety extra low voltage in appliance standards, such as BS EN 60335 and separated Extra low voltage in installation standards, for example BS 7671.
Class III equipment


This type of equipment uses a supply at (SELV) separated extra low voltage. These types of equipment use lower voltages SELV sources will not exceed 50 volts ac and in many insulations, will be required to be below 24 volts or 12 volts. SELV systems require specialist design and it is requirement that there is no earth facility in the distribution of SELV circuit or on the appliance the class III construction mark is as shown below
Class III equipment is required to be supplied from a safety isolating transformer to BS EN60742 or BS EN 61558
Class 0 and I
Class 0 and I is allowed only in a specific location. Such equipment should not be used in the normal commercial, industrial or domestic environment. For completeness, an explanation of these two types of appliance is included below
Class I
A class I item of equipment has at least basic insulation throughout. The equipment is provided with an earthling terminal. The equipment has a power supply cord without a protective earthling conductor. The equipment is fitted with a plug without an earthling contact, which cannot be introduced into a socket-outlet with an earthing contact.
Class 0I equipment is specialist equipment and not for common use.
These are your classes of equipment so all equipment that falls in to the categories above. Now you can start to test as you know what class they are.
ETD's PAT Testing (refresher) course
To get more information about PAT Testing and SELV then look to purchase ETD's online PAT Testing (Refresher) course. Follow these five simple steps to get started.
· Create a free company account or single user account, selecting the £12+ VAT payment scheme.
· Purchase your user accounts using the online Elavon platform.
· For company accounts, create your user accounts (using unique usernames) and "activate" each user by pressing the "activate" button.
· Purchase your online training by selecting the courses that you require. Ticking a course will instantly assign it to the user's account.
· Once the courses have been assigned, single users can access the course under "my courses". Company users can log into their account, go to "my courses" and start the training.
If you require any assistance with the online training, then please contact our support team, who will be happy to help.